A new year always feels like a good time to get things in order, doesn't it? As part of my focus on simplicity this year, I want to get rid of the excess in my home and organize the rest. I also want to simplify my daily and weekly schedules, so I can be productive without being stressed out all the time. Do either of these goals resonate with you? If so, you might want to join me over the next several weeks as I "get my life together". 
Disclosure: This post contains affiliate links. Read more here.
Home Organization 
The blog, A Bowl Full of Lemons, is doing a 14 week home organization challenge. Here is what it's all about:
The 7th annual 2018 Home Organization Challenge begins on Saturday, January 6th.  This gives you a few more days to enjoy family and your kids, before they go back to school (or work). It also gives you time to pack away your holiday decorations and prepare yourself mentally for the challenge. Get ready for a labor of love. Over the next 14 weeks, we are going to turn our homes upside down and give them the attention they so desperately need.  We will work our way through each room, purging and donating the things we no longer love or need. We will simplify each space and set up our homes for a successful New Year!
See that word I have highlighted? Simplify. That is exactly what I'm aiming for. Not minimalism, just simplicity. If you'd like to join me (and probably thousands of others), you can download the FREE printables here:
You can follow along and participate via the associated Facebook group, sign up for challenge emails (click link above for this), and watch the challenge YouTube videos. There is also an accompanying book:
The 2016 print version ships from Amazon in 1-2 months but there is a new version coming out in June. I think I'll buy the Kindle version for now and wait until June for the new print version.  You can still do the challenge without purchasing the book, however.
If you sign up for this challenge leave me a comment. If there are enough of my readers doing it I might come up with some way for us to encourage one another and be accountable for our progress.
Productivity
If you have followed me any length of time you likely know what a huge fan I am of Crystal Paine's courses. I've purchased all of them and can personally vouch for their quality. I was SO excited when I heard she has a new one:
When you sign up, you'll get:
-Access to an Accountability/Mastermind Facebook Group with Crystal during the month of January
-4 one-hour LIVE coaching sessions with Crystal on Monday evenings at 8 p.m. CT (January 8, 15, 22, 29, 2018)
-A weekly followup email from Crystal with additional resources and encouragement to go along with that week's coaching lesson
-Lifetime access to the recordings of the videos of the coaching sessions to re-watch or review
-Hands-on projects to complete each week to practically apply what you are learning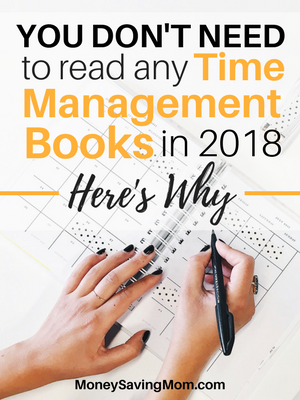 I'm going to be working through this one in my Facebook group, Make Over Your Life With Dee. Registration is only open through January 6th and if you purchase by January 4th it's only $17.
So that's what I'll be up to in the next several weeks. In a few months I fully expect to have my house whipped into shape and be so productive I'll be dangerous. Hey, a girl can hope, right? If either or both of these sound good to you, I'd love to have you join me. It's always more fun to do these sort of things with friends!